Highlights
#$@!*?! This is getting too long and too late! I'll just focus on the main characters.
The "Cha Do-Hyeon" System (Ji Sung)
If anything, "Kill Me, Heal Me" shines for the role "Cha Do-Hyeon". This is an actor's piece. Of course, if this is about a man with seven personalities, it better be about a man and his seven personalities.
It begins with a Cha Do-Hyeon who seems to have given up having the possibilities of a normal life like other people, ie. making friends and falling in love, trying to keep his condition secret from his family, and doing his best to rectify and take responsibility for troubles that his other personalities has done. He is not living but surviving. The depth of his struggles manifest in personalities such as Ahn Yo-Seob who is suicidal, or the ever carefree Perry Park. They all are the things Cha Do-Hyeon is not. On top of that, there is the mighty Shin Se-Gi, a direct opposite of Cha Do-Hyeon who loathes Cha Do-Hyeon's cowardice in facing the truth in his memory and the pain. Se-Gi's violent and reckless ways have put Do-Hyeon in tight spots on more occasions than he would've liked.
"With this face and with this look on the eyes, I am Cha Do Hyeon."

Cha Do-Hyeon, Episode 3

"What can I appeal more? My entire existence is a lump of appeal!"

Shin Se-Gi, Episode 11

All I want is freedom. Freedom.

Perry Park, Episode 3

"Only death will set you free"

Ahn Yo-Seob, Episode 7

"Why are you making me say so many wo-wo-wo-words!"

Ahn Yo-Na, Episode 13

"It's Nana. Her name is Nana. My name is …." The girl who plays with the bear, Episode 16

"You don't know how glad I am that I am not Superman."

Mister X, Episode 20
Too bad we don't get to see them as full fledged individuals with their own lives and interests. The interactions are restricted to Do-Hyeon's circles. I would love to see Ahn Yo-Seob pining for a girl and writing poems about her, Perry Park playing poker or dancing the Trots music, Shin Se-Gi and his own circle of friends or minions (What if he had been an underground gang leader?). Although it can be explained that Korea is a "new" environment to Do-Hyeon since he had been away for eleven years in the States.
The Ahn Twins's backstory and their existence have not been explained satisfactorily other than a mention of a suicide attempt by Do-Hyeon in high school that shocked the school. Why did Do-Hyeon attempt to do that? Because other than the Ahn Twins, the other personalities are related to Do-Hyeon's childhood.
The Oh Twins and The Oh Family
The Ohs are the counterpoint to the cold and claustrophobic feel of Seung Jin family, and that includes the family dog, Oh Ri-Na! The drama gives two diametric environments in which a child with traumatic experience is brought up. In one, a child flourishes, in another a child's heart and mind break apart. The Ohs portrays a family that serves as a platform that heals and enables Ri-Jin to shine despite abuse and traumatic incident in childhood. Love how they embrace Do-Hyeon immediately with open arms.
Oh Ri-Jin (Hwang Jung-Eum)
I am in the opinion that there is no way Ji Sung's Cha Do-Hyeon System's performance would have been the way it had been had he not got a good partner to work with and for that I applaud Hwang Jung-Eum for her Oh Ri-Jin. She anchored the emotional journey with genuine warmth and sincerity.
Most of the time, Kdramaland doesn't care much about heroines as long as they are kind and look good while crying (very important!). Oh Ri-Jin does not stray far from such guideline, but she has been written way better than other heroines and Hwang Jung-Eum injects refreshing verve into her character. Some may have found her too loud, but given her backstory and upbringing, I can see how Ri-Jin becomes the way she is. I believe that she has good enough head above her shoulder. Although, the drunken frenzies —so the heroines will spill secrets, do the unthinkable, while looking "cute" or "adorable" to the male leads, or deal with the comedic aftermath— have become cliché. Please, stop it, Kdramas!
Oh Ri-Jin also has got some of the best lines in the drama.
"If you want to die then die! But die tomorrow! And if tomorrow you still want to die then wait until the next day! Do so and there will come a day when you will be thankful that you've survived… " Oh Ri-Jin, Episode 15
Oh Ri-Ohn (Park Seo-Joon)
Assuming the pseudonym "Omega-3", he thrives penning mystery novels. But Oh Ri-Ohn's life has not been easy lately as he sees that Ri-Jin's slipping away from his orbit. Harbouring a man's love and a brotherly love for Ri-Jin, he has to keep his words to support whatever Ri-Jin chooses even if her choices hurt him. So he would have to make his choice too.
In a dialogue between Do-Hyeon and Ri-Ohn, Ri-Ohn invokes the imagination of what might happen had Do-Hyeon and Ri-Jin grown up together. Instead of him, it might be Do-Hyeon who had to be her twin brother and he might get the chance to be a man to Ri-Jin. This is actually an interesting plot, in my opinion (considers the good old "Damo"). Too bad —and thank goodness for that!— this line of thoughts is sidelined and manifests in quiet struggles Oh Ri-Ohn goes through. No drama.
"If you regret your choice or if you are having a hard time, run back here with class and elegance while flying with all your strength." Oh Ri-Ohn, Episode 7
I sort of have a crush on the child actor, Kim Ye-Joon, who plays young Ri-Ohn (and plays young Jang Geu-Rae in Misaeng). Or is it the bowl haircut that enchants me? One of my complaints is that the young twins don't get much screen time. Looking at the amount of chilhood photos that Mother Oh proudly shows to Do-Hyeon, there's got to be footage on those events! Why not show the first time young Oh Ri-Ohn comforted young Ri-Jin when she had nightmares?! @#!$! Those scenes should tell more about Ri-Jin getting her groove back and Ri-Ohn having the penchant for story-telling and mystery. Those would also give comparison on young Ri-Jin's interaction with young Ri-Ohn and young Do-Hyeon.
Verdict
I've mentioned that, for me, "Kill Me, Heal Me" has been a mixed bag. But, despite the shortcomings, it has been fun. It has hearts, laughters, and tears in the right places, mostly.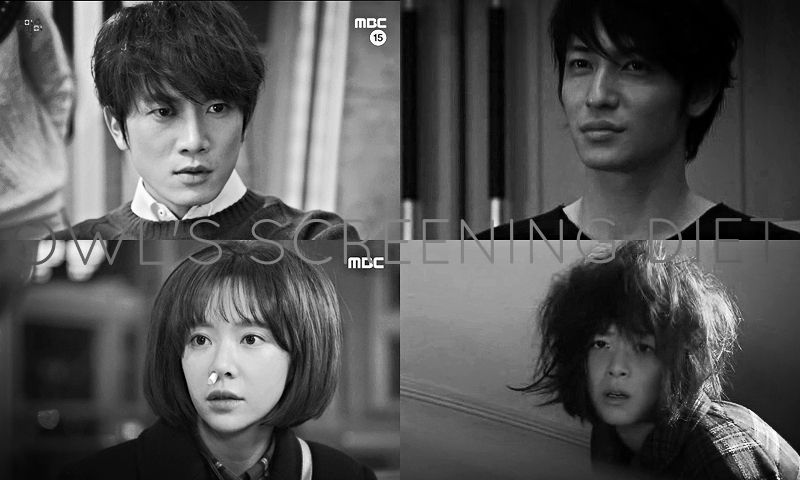 The show also reminds me a lot of "Nodame Cantabile". Other than the comedic set up around heavier subjects, another reminiscent of it is the "Dynamic Duo" concept. There is no denying that it is the two main characters and leads, Cha Do-Hyeon/Ji Sung (especially him!) and Oh Ri-Jin/Hwang Jung-Eum, who carry the weight of the show. And, while doing the visual comparison, I can't help wishing that it had been Ji Sung and Hwang Jung-Eum who did the Korean adaptation of Nodame Cantabile. *Sigh*
Kill Me, Heal Me, Amuse Me!
Idea

Visual

Dialogue

Music

Entertainment
Verdict
A romantic comedy, peppered with DID-inspired hilarity and tragedy.
0
Pages: 12