This is another attempt to follow 'Beautiful Mind' while it's still airing.
As usual in Korean drama, 'Beautiful Mind''s first two weeks look polished and are meant to entice viewers. The real test would be in the third week which often serves as 'indication' on how the series would fare. Yet I found it quite difficult to get into 'Beautiful Mind' at the beginning.
The thing is, I like the casts.
First of all, it's weirdly wonderful to have 'Volcano High' reunion between Heo Joon-Ho and Jang Hyuk. In Volcano High, they played 'arch enemies' in the form of strict dictatorial teacher and reluctantly rebellious student. Now they are playing father and son, whose relationship is wrought in tension and shadows.
Making up the imperative four leads are Park So-dam bringing her brand of charm into a naive rookie cop Gye Ji-Seong who is about to confront the darker side of humanity, Park Se-Young playing Lee Young-Oh's girlfriend doctor Kim Min-Jae, and Yoon Hyun-Min playing heart surgeon Hyeon Seok-Joo who is struggling to keep his ideals.
And there is a myriad of always dependable actors in supporting roles: Oh Jung-Se playing Kang Hyeon-Joon, the self-serving chairman of Hyeon Seong hospital, emitting malice yet sporting laughable hairdo; Shim Yi-Young, who just transforms effortlessly in anything I watched, playing doctor Kim Yoon-Geong who is thrown into a hellish situation; Ryu Seung-Soo and many more.
The problem was that a jumble o'stuff were thrown at me right from the start. On structural level, there is hospital politics, research politics, the usual medical procedural drama, and a murder mystery. On organic level, there's the wrapping of individual human dramas: father and son relationship, Lee Young-Oh's antisocial personality disorder, Gye Jin-Seong's quest for truth and justice, interpersonal frictions. I could see the scale and range with which it tries to engage. Yet, instead of complicated and complex, it is crossing into convoluted territory and it felt so. Or perhaps I just haven't got the brain power to keep up with ten things at once.
Of course, this jumble o'stuff reflects in plotting. But I like the casts a lot. I don't want to give up this drama just yet.
---
Lee Young-Oh, The Black Box
It's not just because he dresses in black that he is a black box.
The first week establishes Lee Young-Oh as an arrogant, manipulative, super star neurosurgeon of international acclaim ("the Mayo Clinic scouted for him!" declares the rumour mills), with a flair for the dramatics. He likes to show off that he is a superlative. Already, his superlativeness breeds disdain and envy among colleagues and rubs the hospital administrations the wrong way. But no one can discard him, and he would not let them. They need him for he is a highly intelligent and capable doctor, sometimes the only one who can fix their problems on operation table.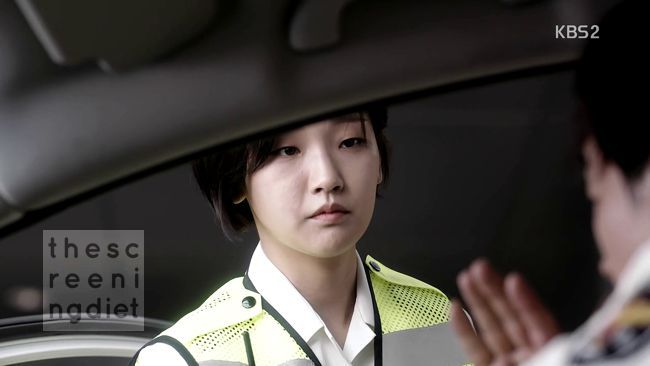 It also introduces Gye Jin-Seong, first as a cop from traffic division who is generally a stickler for rules even if she must break them to catch offenders, and as a former patient of Hyeon Seong Hospital under the cardiology department. She has developed feelings for her attending physician, Dr Hyeon Seok-Joo, and formed attachment with the department head, Dr Shin Dong-Jae. Both had helped her case when she had been subjected to a malpractice.
Set in a Hyeon Seong Medical Centre, currently on the forefront of a research on regenerative medicine, the hospital is a point where various ambitions and interests meet and clash.